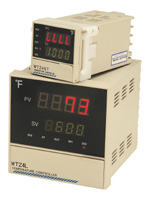 PID temperature controller DigiTec TZ4 series offer front panel selection of all operating functions except output type. Programming flexibility includes selection of a second temperature set value, sensor type and all PID function parameters.
Another unique selectable feature is fast or slow PID response. When set in the slow response (PIDS) mode, very little, if any overshoot will occur. If selected, Auto-tune control will monitor the system output response and after 3 response cycles will automatically calculate and replace the PID constants with optimal process control parameters.
Standard TZ4 PID temperature controller is equipped with two (2) alarm outputs. Some OEM customers prefer a single alarm output because it simplifies wiring and lowers costs.
Function options are all front panel selectable including sensor input. Only output must be ordered by model
2 temperature set values can be entered. Operator can then manually select between the two separate set values
Fast or slow PID response selectable — In slow response overshoot eliminated
2 independent alarm outputs, each with 9 operating modes
Universal Input:
100-240 VAC 50/60 Hz
100-240 VDC
Powerful but inexpensive
Indicating accuracy of ±0.3% Full Scale
Diverse outputs include Relay, SSR driver, and 4-20mA analog
Multi-input type selectable 15 kinds of input modes