Intelligent High Speed, High Resolution Single and Dual Channel Panel Meters
The user can program the majority of the menu steps to not be accessible. This simplifies the programming of the meter allowing only necessary menus to be displayed in the SETUP mode. The meter can initially be configured to the desired setup, and then the user can lockout all the unnecessary menu steps.
6-Digit Red LED Display
20-point Linearization
Tare gross/net operation
Dual Scale setup (English/Metric)
Math Channel
1/8 DIN Extruded Aluminum Case
NEMA 4X Rated Front
Shunt Calibration Scaling
No Calculation Scaling
Calibrated Load Scaling
25/sec Analog Output
User Programmable Keys and Remote Inputs
Relay for Alarm/shunt Calibration
3 Types of Calibration
Up to 4 Relay Outputs

Digitec 3700A Brochure





Intelligent High Speed, High Resolution Four Channel Analog Inputs Panel Meters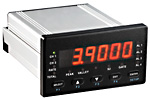 The 3924 series digital panel meters are the most versatile and powerful meters on the market. The meter's 6 digit display, high speed measurement (4/sec.) update rate makes this the perfect choice for those most demanding applications. The 3900 also includes 4 assignable front keys, 2 assignable remote inputs and a variety of menu lockout features.
The 3924 offers four input channels with a fifth channel for mathematical calculations. Standard formula includes sum and AVG. A complete math pack is in the 3924 firmware. Please contact ATC for implementing your specific equation.
Options include 3 form C relays, 4 analog sample and hold outputs. RS232 bidirectional communication, excitation supplies and screw terminal connectors.
6-Digit .56" Red LED display
4/sec. Update Rate/Channel
Tare gross/net operation
Dual scale setup (English/Metric)
Math channel
1/8 DIN extruded aluminum case
NEMA 4X rated front
No calculation scaling
Calibrated load scaling
User programmable keys and remote inputs
Relay for alarm
Scan Mode (Selectable Scanning)
Up to 4 Relay Outputs