1550 Kingston Rd. #1116
Pickering, ON
L1V 6W9
TEL: 1 800 809 7167 CDA/USA
Instronics
Manufacturers
Instrumentation
Load Cells/Transducers
Pressure Sensors
Torquemeter/Torque Sensor
Vibration/Shock Monitors
Low Capacity Torquemeters
Low Capacity Torquemeters - Himmelstein MCRT® 28000T/29000T will measure torque in the ranges from 0 to 10 oz-in to 0 to 200 oz-in.

A strain gaged beryllium copper shaft senses the torque, and cancels bending and thrust loads. Rugged, ferrite-free rotary transformers are used for non-contact, signal transfer to noise immune carrier amplifiers. A dual track 512 ppr encoder is available as an option.
Watch this space for future smaller models with full scale range of 0 to 2 0z-in.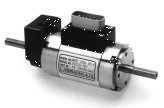 Key Features:

Applications:

2X or 4X Overload
High Accuracy and High Stiffness to Inertia Ratio
Ferrite-Free Rotary Transformer Coupling
Unexcelled Immunity To Machinery Magnetic Fields
Optional Dual Track 512 PPR Encoder

Control, Monitoring and Testing of:
Stepper Motors
Small Pumps, Fans
Small Gear or Belt Drives
Or Other Dynamic Applications

Low Capacity Torquemeters
MCRT® 28000T/29000T mV/V:
2X and 4X Overload Rating

•
Hardened to IGBT
•
Generated Noise (29000T)
•
High Stiffness to Inertia Ratio
MCRT® Model Number
Torque Range
Overload Rating
Speed Rating
OZ-IN
N-M
OZ-IN
N-M
RPM
MCRT® 28000T, 2X Overload Models:
28000T(1-1)
10
0.071
20
0.141
0 to ±25,000
28000T(2-1)
20
0.141
40
0.2823
0 to ±25,000
28000T(5-1)
50
0.353
100
0.706
0 to ±25,000
28000T(1-2)
100
0.706
200
1.412
0 to ±25,000
28000T(2-2)
200
1.412
400
2.825
0 to ±25,000
MCRT® 29000T, 4X Overload Models:
29000T(1-1)
10
0.071
40
0.283
0 to ±25,000
29000T(2-1)
20
0.141
80
0.565
0 to ±25,000
29000T(5-1)
50
0.353
200
1.412
0 to ±25,000
29000T(1-2)
100
0.706
400
2.825
0 to ±25,000
29000T(2-2)
200
1.412
800
5.649
0 to ±25,000