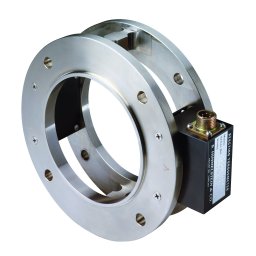 We are pleased to announce the new, CF2700 Series NEMA C-Face Reaction Torquemeters. These devices mount between a NEMA C-Face motor and its load. When installed, they sense the motor or load torque. They respond to dynamic and static inputs and are expected to find wide use in industrial measurement and control applications.
Outstanding features include simple, low-cost installation and 0.1 percent accuracy's. Because they have no bearings or rotating parts, they require no maintenance. Their ability to handle 500% overloads assures reliability in demanding industrial applications. Two types are available; one outputs 0 to ±10 Volts and the other, a 2-wire transmitter outputs 4 to 20 milliamperes. Their measurement bandwidth is dc to 1,000 hertz. Those outputs are compatible with standard motor controllers and data acquisition systems.
Both types are powered by a single, unregulated, fused and reverse polarity protected power supply. Models for NEMA 56C through 286TC motor frames are available. Extended torque ranges to 20,000 pound-inches are cataloged. All units are shipped with an NIST traceable dead weight calibration that is performed in our accredited laboratory (NVLAP Lab Code 200487-0).
Sense Motor or Load Torque, NIST Traceable

Simple, Low Cost Installation

High Safety Margins - Handle 500% Overloads

No Bearings or Rotating Parts

0 to ±10 Volt or 4-20 mA Outputs

Models for NEMA 56C thru 286TC Frames