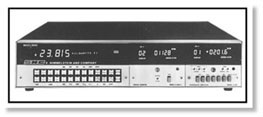 These instruments provide signal conditioning for any standard strain gage torquemeter or similiar transducer. Most models also handle frequency producing speed and flow sensors. Analog outputs are available for measured parameters. digital displays have
engineering unit scaling, illuminated legends, display test, automatic scanning with skip
function,
remote hold
and analog
auto-zero
plus many other valuable, microprocessor-based features. More powerful versions include computing programs to calculate machinery performance parameters.
When transducers, instruments and cables are furnished you receive
an NBS traceable system calibration
and
a single source system guarantee
. Himmelstein analog signal conditioners offer
high accuracy
and supurb performance. Powerful,
constant delay filters eliminate aliasing errors
and
assure stable readings
. where input signals are digital, true digital conditioners are used. this approach avoids the errors inherent in converting digital to anlaog signals and subsequently re-digitizing for processing and display.


For Measuring
• Torque
• Speed
• Force/Weight
• Pressure
• Flow
For Computing
• Power
• Efficiency
• Energy
For Testing And Controlling
• Motors
• Engines
• Pumps
• Compressors
• Transmissions
• Gear Boxes
• Dynamometers
• Machinery
• Processes