Increase employee safety while decreasing facility/product damage with Shockswitch IDóA PC-driven way to comply with OSHA regulations.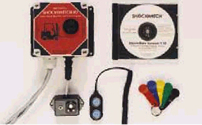 The Shockswitch ID is a valuable resource for any company that wants to augment OSHA compliance regarding forklift operation and at the same time decrease damage to their equipment and facility.
Shockswitch ID Benefits
The complete Shockswitch program is designed to aid managers in:

Reducing forklift maintenance costs
Improving driving habits
Reducing rack and product damage
Enhancing OSHA standards
Providing ongoing driver training
Creating a safer, more productive work environment
Shockswitch ID Features
Control Vehicle Access: PC driven databases record authorized operators by forklift
Monitor Driver Training: ShockMate 2 software tracks need for operator retraining
Log Impacts: Record impacts by date, time, driver ID
Inactivity Logoff: Program forklift to shut down after a user-specified period of inactivity
Alarm Duration: Program unit to sound alarm on impact
Maintenance Timer: Schedule audible alert for planned maintenance checks
Logout/Tagout: Shockswitch ID can be used to lock out a truck needing repair
Halt on Impact/Halt Delay: Program for halt after impact option. User determines delay.
Shockswitch ID Operation
Control Forklift Access & Identify Operator
The Shockswitch ID integrates with a forklift's ignition system to identify and limit access to trained operators. The Shockswitch ID requires a prospective driver to "log on" using an iButton green Operatorís Key that fits a simple key reader on the unit. The iButton serves as a critical component in the interface between the Shockswitch unit and the monitoring soft-ware - ShockMate. Once properly coded, the Shockswitch ID will not allow the forklift to be operated without an authorized iButton key.

iButtons are a proven technology in a wide variety of industries. The use of iButtons as a means to identify forklift operators versus an operator code system is preferred due to the security it provides to both operator and company.
Designate Specific Drivers To Operate A Forklift
The exclusive ShockMate software aids in complying with OSHA regulations concerning forklift driver training and certification. Upon setup using an IBM-compatible PC, the software will ask for information, such as forklift type and ID number. Driver information including names and certifications will also be collected. Based on this data, a supervisor will use the Managers Key to relay an operators list to each Shockswitch ID-equipped forklift. The unit will allow only drivers with authorized keys to operate each truck. The software also alerts the expiration dates of certifications.
Assigns Abnormal Lift Impacts To Operator
The Shockswitch ID is equipped with an adjustable impact sensor. When an impact exceeding the sensor's threshold is sustained, the time, date, and driver ID are recorded. This information is stored in memory for later downloading to a computer for analysis.
The Shockswitch ID can be programmedto react to an impact in various ways:
Record only the time, date, and driver ID
Sound the forklift horn after impact for a specific period of time (1 to 59 seconds)
Latch the forklift horn on continuously after impact until a supervisor resets it.
Disable the forklift.
Shockswitch In A PC Environment
With the red Settings Key a manager using ShockMate software can enter lift truck operating parameters to create a safe operation program for the fleet. Alarms can be set to sound for up to 59 seconds or continuously until reset. Shutdowns after impact can be delayed by up to 255 seconds to allow the equipment to be moved out of harmís way.
Planned maintenance alert schedules from 50 hours to 999 hours can be programmed into the unit with the red Setting Key. In addition the blue Maintenance Key is used as a lockout/tagout device.
Information recorded by a single Shockswitch ID is downloaded with the yellow Managers Key. This key retrieves the data and stores it for upload to a computer running ShockMate software. The Key is placed in a reader and the ShockMate software prints out the data on a computerís printer.
The Shockwatch DataRanger is an optional data collection device used in lieu of the Managerís Key. It downloads information from up to 50 lift trucks if the Shockswitch memories are full--more trucks if not--and uses static memory to protect data in the event of power loss.
Shockswitch ID General Specifications
Operating Temperature

-20C to +60C
-4F to +140F

Operating Humidity

0-100% Non-condensing

Operating Shock:

10G (non-destructive)
100G (destructive)

Case Size:

4.33 in. X 4.33 in. X 2.8 in.

Case Material:

Polystyrene

Case Rating:

NEMA 4X

Weight:

2.5 lbs.

Power source:

10 - 60 VDC

Impact Detection:

User adjustable threshold sensor

Impact Detection Range:

.3G to 7G

Data Storage Capacity:

400 events
(Operator log on/off)
(Impact time/date)

Data Retrieval

With Yellow Manager's Key

Relay output

Open Contact fused @ 5amps
Closed Contact fused @ 10 amps

Output Alarm:

Piezoelectric 98db.

ShockMate software computer requirements:

Operating system: Win 95, Win 98, Win NT, Win 2000, Win XP
Memory: 6Megabytes needed on hard drive
8 Megabytes RAM

DataRanger Specifications

Memory: 522k Flash
Battery: 9V alkaline or U9VL lithium
18-24 month battery life (U9VL)
Enclosure: ABS, 4.2 x 2.4 x .9 inches
Weight: 5 ounces

Download Brochure